Barnett's Guide Service Fishing Report!
Date: Tuesday December 20, 2005
Current Report:
With the freezing rain and snow I decided to hit the river this afternoon with a friend Bill Hietsman and do a little steelheading. It didn't take very long to find some willing participants. If yours truly would have to remembered the charged batteries we could have had some nice pictures but the batteries went dead on the first fish. We ended up catching all six that we hooked with two being hatchery fish and they got the wood shampoo. I am excited to see that many wild fish this early in the season.
All the fish were caught on fish pills and eggs but one that tried to eat a spin-glo. I doubt he will try that again for awhile. The steelhead season is really starting to look good as it is raining right now and the temperature is up to 50 degrees.
Hope to see you soon.
Tim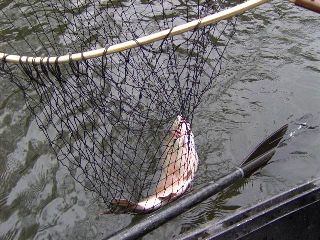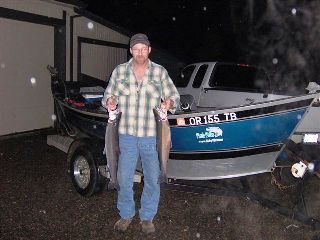 ---
Date: Monday November 28, 2005
Current Report:
Well the chinook season is over on the Nestucca for the year. Last Sunday I took Vaughn for the last trip of the year down here and found a few fish. He caught two in the first hour and we just enjoyed a nice float trip to the ramp after a quick start to the day. We got enough rain to color the Kilches up on thurs. so I took Lonnie and Jamie up on friday and as you can see they had some action. The Kilches will continue to get chinook through December with the season ending on the 31st. The steelhead are starting to show up as well, with some fish having been caught on all of the rivers around here. We are still booking a few more chinook trips but will start concentrating on the winter steelhead the week before Christmas.
Hope to see you soon.
Tim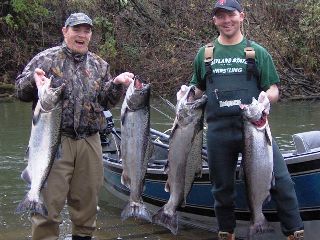 ---
Date: Monday November 14, 2005
Current Report:
Well the rains they predicted finally showed up and when the water came down the first day was unbelievable on Wednesday Ken Brebner and Rich Hamilton hooked so many fish that we lost track at twenty something Thursday was a lot slower but I think it had to do with the number of boats we kept a couple of fish with Jeff and Charlie and lost a few more. I got to fish with my friend Bill on Saturday for awhile he also had a great time. The run might have peaked but will continue to fish past Thanksgiving. After the first of December I will move to the Tillamook area rivers.
Hope to see you soon.
Tim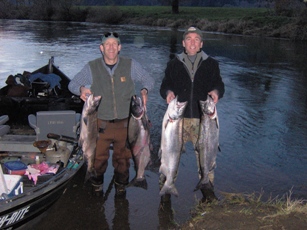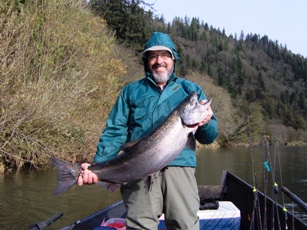 ---
Date: Saturday November 5, 2005
Current Report:
Well the water finally showed up and in force we are currently waiting for it to drop into shape. Every time it gets close it raises again. We did a couple of trips on the Nestucca Friday and Saturday. Fridays trip was a wash out as there was a lot of debris in the water. Saturday we hooked three fish and lost them all as the water was very high and the fish were very fresh and equally as mean. I normally don't fish when it is that high but the clients scheduled the trip in August and came up from California and wanted to go anyway. They still had a ball with one of the fish going ballistic and cart wheeling within three feet of the boat before breaking off on 40# line these fish were hot . I can't wait for the river to get real fishable. I still have a few days left open.
Tim
---
Date: Thursday October 27, 2005
Current Report:
We are still fishing tidewater this week and went 3 for 5 with over 6 missed opportunities with Jack and Rich. We also got a couple sea run cutthroats which are beautiful to see in person. We are still waiting on rain to bring the river up so we can get into SALMON CHAOS. That is what the fishing will be like on the first big rain we get this season. The salmon are loaded up in tidewater just waiting for the water to come up. The forecasters seem to think the coming week will give us that rain but I am not holding my breath.
Tim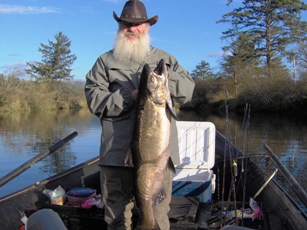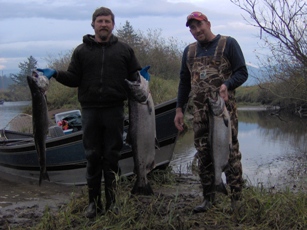 ---
Date: Saturday October 15, 2005
Current Report:
We did a couple of bobber trips in tidewater this week and caught a fish each time and felt good about it as the fish have been there but are not biting that well, which is typical for tidewater. Once we get the rain it will draw fresh fish in and the bite will pick up. Here is a picture of Ken Brebner and his son Jack with Kens first ever bobber fish. The rain is finally here as I type and the river is rising. I know where I'll be tomorrow.
Tim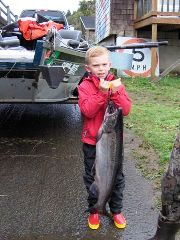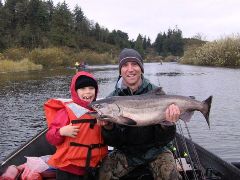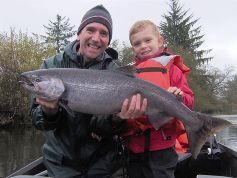 ---
Date: Wenesday October 5, 2005
Current Report:
We did a low water bobber trip on the lower Nestucca river. Ken and Mark caught three fresh fish and lost two. The fish were a little small as the larger fish will not sneak into the river at the levels it has been. The projection is for rain in the next few days but we will have to wait and see.
Tim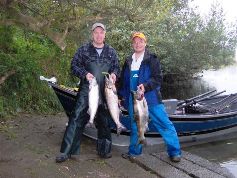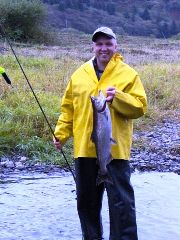 ---
Date: Wednesday September 21, 2005
Current Report:
We got some rain and the rivers bumped up almost a foot. A fair amount of fish came in and the water dropped overnight putting the fish in the deeper holes. I fished a half of a day on Sunday and went four for six, here are a few pictures before the batteries went dead. The prediction is for more rain this week and it should push the rivers up as the ground is wet now and the water height will stay up longer.
Tim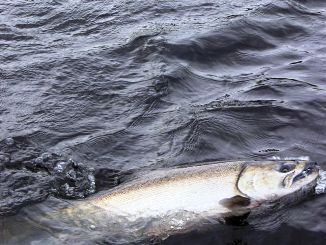 ---
Date: Wednesday September 21, 2005
Current Report:
The time is very near for the north coast to bust open as all the bays and tidewater areas are starting to load up with fall chinook. The water is starting to cool down and with each incoming tide there is a brief bite some days are better than others. When the first rains of the season hit the Nestucca, Wilson and Trask are going to explode and this will be some BEST fall chinook fishing that you will not want to miss. I ran out mid morning with a strong east wind blowing and still managed one fish about 18lbs.
Tim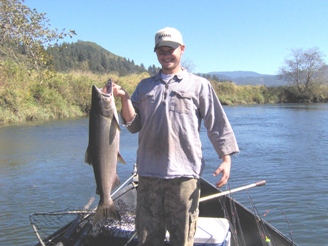 ---
Date: Saturday September 3, 2005
Current Report:
The fall chinook are starting to make their yearly appearance in the bays and tide water up and down the coast. Expect things to pick up as the temperatures are starting to cool down of a night which will in turn cool the water .The Nestucca river opens on the 16th of September and if we get more rain like today it will be excellent fishing like last year. If not it will be a tidewater bobber show which is a blast. You will be able to retain jacks until the bag limit of two adults is reached. Fin clipped coho can be kept in the Trask but not the Nestucca. looking forward to seeing you soon.
Tim
---
Date: Sunday August 21, 2005
Current Report:
Low water and warm temperatures in the coastal rivers have slowed the steelhead bite for the past few weeks. However, with the cooler nights over the past week there has been more fish caught as the water temperature has started to drop. As of late we have begun to see some Fall chinook entering the bays and we are seeing a few fish being caught. Over the next few weeks you can expect to see the Fall chinook bite heat up as we continue into the the Fall. Right now we're Fall drift boat trips on the coastal Oregon rivers for trophy Fall chinook. Remember to book your Winter steelhead trips soon while dates are still available!
Tim
---
Date: Sunday July 24, 2005
Current Report:
Summer steelhead are still entering the Nestucca in good numbers with a decent bite early and late in the day. Light line and small baits are the ticket right now with spinners running a close second.If you fish spinners you will want to fish a small gold plated one in the low light and a nickel or silver plated one when the sun comes out. The river is just full of spring chinook but with the water temperatures up the chance of finding a biter is slim to none.
Tim

---
Date: Sunday July 3, 2005
Current Report:
The Nestucca River is slow right now for spring chinook and summer steelhead. This occurring most likely because of the low clear water and rising water temperatures. Right now the chinook bite is shut down and the only bite out there is VERY VERY EARLY and VERY VERY LATE bite. I do not expect the fishing to pick up until another fresh batch of steelhead shows up
Tim

---
Date: Thursday June 30, 2005
Current Report:
The Spring chinook bite has been slow for the last couple of days. We are seeing a few fish caught early and late in the afternoon. You can expect more fish to enter the as the tides begin increase in height. Expect there to be a lot of pressure as we enter the 4th of July holiday weekend.
Tim

---
Date: Wednesday June 22, 2005
Current Report:
The Nestucca is starting to heat up for springers as a good number of fresh fish have moved in. The boys wanted to go this evening so we launched at about 5 pm and in the next hour and a half we caught three. Two hatchery fish and one native that was released without being removed from the water. You can see the pictures in the photo album including the boys fighting a double, what a fire drill.
Tim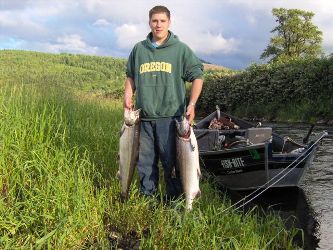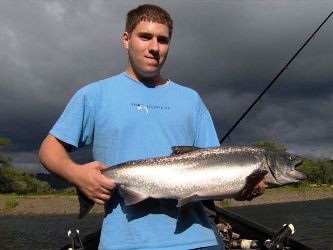 ---
Date: Wednesday June 15, 2005
Current Report:
Spring chinook continue to move into the coastal rivers with the bite being good one day and off the next. The summer steelhead started to show up in better numbers this last weekend and will start to fill in the slack when the chinook are off the bite. With the projected rainfall late this week look for the action to pick up by the first of next week.
Tim

---
Date: Monday May 30, 2005
Current Report:
Well the Nestucca is starting to pick up with the recent high tides bringing fresh fish with each tide exchange. We got out Saturday for a short day and caught one, lost one and missed one. I went to take a picture with my new camera and shot a short clip of video instead.
Monday we went back at it after a lesson on the camera and took a few pictures of some fresh Nestucca springers. You can check out Bill's limit on the photo page. We ended up landing two fin clipped fish, broke one off and missed three other opportunities. A few summer steelhead are starting to show up as well. This fishery will just improve as June progresses and the fish start to stack up in the deeper holes.
The Trask is also putting out fish as well and is coming into shape nicely. Expect fishing to just improve as the springer season is really just getting underway.
Tim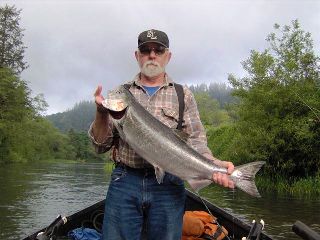 ---
Date: Thursday May 26, 2005
Current Report:
We are going to be out on the Nestucca this weekend hunting down some of the spring chinook that have been showing up and will update you on Monday with our results. However, right now I wanted to share with you a story from a trip we took on the river May 18th. Please download it here: A Day on the Nestucca
Enjoy the read!
Tim

---
Date: Thursday May 19, 2005
Current Report:
The spring chinook are starting to show up in better numbers on the Nestucca River. With recent rains and a rising river the bite stopped on Wednesday but was fairly decent Monday and Tuesday. As the river is starting to fall and clear expect things to really start to happen by the weekend.
The Trask River has the strongest early return each year with this year being no exception. The fishing has been fair to good depending on the day and will just get better as more and more fish show up.
Tim

---
Date: Wednesday May 11, 2005
Current Report:
Welcome to Barnett's Guide Service!
Today was the launching of our new website and we will be posting semi-daily fishing reports. Please drop us an email and let us know what you think about our website.
Kindest regards,
Tim Barnett